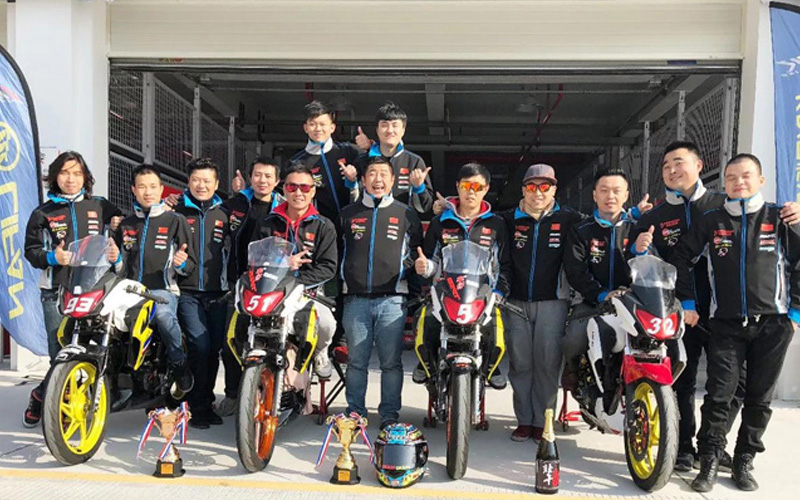 2017 China Road Racing Championship (CRRC) dropped the final curtain after four rounds of heated competition in Ningbo on December 8-10, and LIFAN KP Racing Team defended its championship title in 150cc category.
The first round was held at 11 on Dec 8 morning, Li Qishen and his 51 numbered KPS150 seized the first place for LIFAN KP Racing Team, with his teammate Ma Yaguang ranking 7th. Wu Jiqing, another Champion rider of LIFAN, didn't finish the race due to technical reasons.
Conditioned by the poor speedway under freezing weather, Li Qishen dropped out of competition again after crashing in the lead during 2nd round in the same afternoon. LIFAN rookie Ma Yaguang finished 6th.
The 3rd round on Dec 9 was a comeback for LIFAN. Li Qishen managed to get the 6th and Wu Jiqing catched up with 7th.
The 4th and final round of this year's CRRC race Li Qishen won the 3rd place finishing at 12'19"192 in his title challenge, followed by Ma Yaguang at 12'24"786 and Wu Jiqing the 5th.
LIFAN KP Racing Team scored 272 points in the final standings after four tours in Erdos and Ningbo throughout the year and again claim the trophy of Team Championship in 150cc category.
For individual scoreboard, Li Qishen secured his dominance in 150cc category, Wu Jiqing ranked 4th and Ma Yaguang 10th.
Since stepping into the arena of CRRC in 2013, LIFAN has claimed three titles of the year. The KP series have all been tested on the racing track before launching in market, testing the quality and performance of LIFAN production under harsh conditions during races and pushing to the limit.
In the coming 2018, KP racing family plan to appear on the circuit of more cities including Beijing, Shanghai, Erdos, Zhengzhou, Ningbo and Shaoxing, and they will always be on the chase for the next champion title!