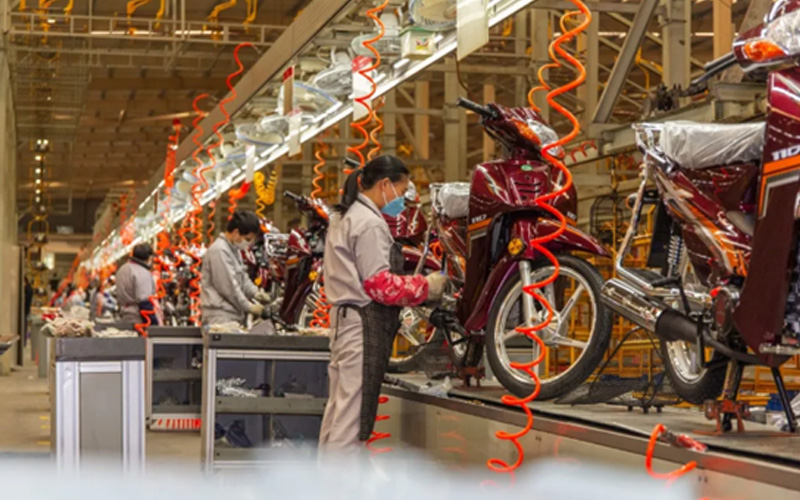 On Saturday, March 7, LIFAN workshop was still busy, with sets of motorcycle frames being passed around the production line and workers wearing masks adjusting and assembling them. "From February 22 to today, we have received orders of nearly 70 million US dollars from home and abroad. The group is working overtime to ensure the timely delivery of orders." Our management team in the summary of the production resumption for the last two weeks.
Orders of nearly 70 million dollars, production capacity restored to 80%
In the Spring Festival of 2020, the sudden outbreak of the COVID-19 disrupted the rhythm of everyone's work and life. After a downtime for one month, LIFAN motorcycle officially resumed work on February 22.
Prevention first, resumption second. Ever since the resumption, we have focused on epidemic prevention and control, ensuring the safety of our employees. On the other hand, we need to resume production as soon as possible.
Two weeks after the resumption of work, LIFAN motorcycle and general power have received orders of nearly 70 million US dollars from home and abroad, with a rate of 85% of staff return to work and the production capacity restored to about 80%.
Although the outbreak is not completely over, and there is even a large outbreak trend in foreign countries, our performance is still quite outstanding during the resumption of work. As of today, we have received nearly 70 million US dollars of orders for domestic and overseas sales, including nearly 66 million dollars for overseas orders for motorcycles and general power. There are also about 4 million dollars of orders for domestic motorcycle sales waiting for delivery.
In an effort to regain lost time, LIFAN's productivity is also accelerating its recovery. "We haven't had a break since we got back to work and everyone is working overtime to catch up. At present, we have opened two assembly lines and a packaging line for parts, which can roll off 900 vehicles every day." According to Sun Chongjun, the executive deputy general manager of motorcycle production division, our production capacity has been restored to about 80%. The third batch of employees will return to work on March 15, which will fully release the production capacity.
Not only that, LIFAN general power will be even earlier than the motorcycle to resume production. "Our orders also continued to grow and, despite the outbreak, we expect capacity to increase in the first quarter from last year." Hao Tingmu, Vice President of LIFAN group, said that the resumption rate of general power has reached 70%, and is expected to reach 80% next week.
Full preparation, proper prevention and control, to achieve a smooth resumption of work
LIFAN has always put the epidemic prevention and control in the first place.
In order to minimize the impact of COVID-19 on production and to resume work orderly, we established the epidemic prevention leading group, in charge of things like organization and leadership, material support, epidemic prevention and control, production safety. We have built a comprehensive epidemic monitoring, early warning and response, disposal and the safeguard mechanism, ensuring the work resumption to proceed safely and orderly.
On the first day of the work resumption, the management team of LIFAN group and the leading group of the epidemic situation focused on the inspection of the epidemic prevention work, emphasizing that "each unit must put the protection of the lives of workers in the first place, to prevent and control the epidemic situation while resume production at the same time."
Before the resumption of work, we launched a thorough investigation on the physical condition and transportation route of the staff, and conducted a rework registration on a voluntary basis.
In order to ensure that every employee can have enough protective equipment, LIFAN makes use of our advantages of deep cultivation overseas to purchase epidemic prevention materials globally, and then ship them back through various channels and distribute them to employees.
After the resumption of work, the group has equipped the production workshops and office areas with anti-epidemic materials such as masks, disinfectant, alcohol, etc., and strictly required the employees to wear masks and take their temperature three times a day.
In order to reduce the risk of infection caused by taking public transport, LIFAN prohibits returning employees from using public transport and encourages them to live in dormitories, or take company shuttle bus, self-driving cars, carpooling, etc. We also strictly control the number of passengers on shuttle bus, and disinfects them every day. Moreover, each department have set up a rework group, the staff will regularly report their temperature, send real-time positioning when they get home, timely grasp each employee's physical condition and action track.
However, we are still facing a lot of difficulties.
According to the person in charge of LIFAN's purchasing department, due to the outbreak, the current work resumption rates of our suppliers are still very low, parts supply is still difficult.
"We are actively reaching out to help our suppliers to solve their difficulties and help them to resume production." Bob Yang, President of LIFAN group, said LIFAN had sent an application to relevant departments to speed up the review of the corresponding suppliers, guide the suppliers to prepare for the resumption of work, provide the suppliers with anti-epidemic materials, etc. We will do our best to promote the supporting industrial chain to restore as soon as possible.
In the overall plan for the prevention and control of the epidemic and the resumption of production, LIFAN has and will always take our steps steadily and stand together with our employees, partners and customers.