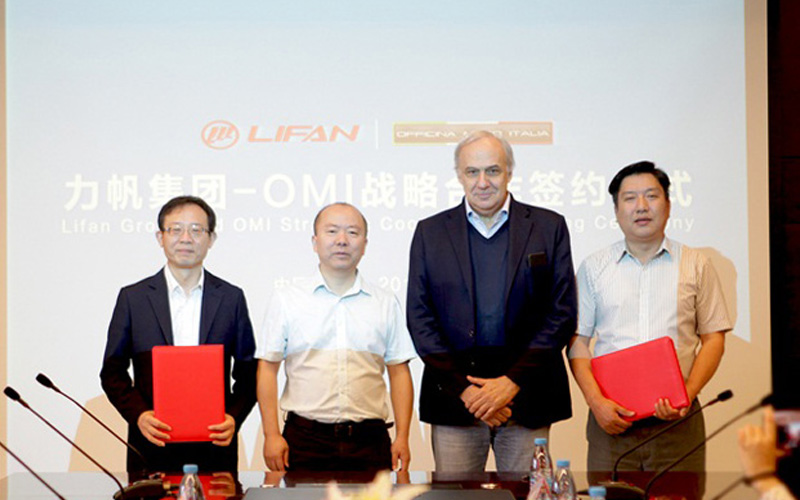 On May 31, LIFAN signed a strategic cooperation agreement with OMI (Officina Moto Italia), an Italian engine technology corporation. The key cooperation projects are motorcycle engines, design and development of whole-vehicles, all based on National-V standards and Euro 5 regulations. Together, they will draw on strengths respectively to build a sustainable win-win strategic partnership.
Mr. Giovanni Mariani, CTO of OMI, with Mr. Bob Yang, Executive Vice President of LIFAN Group, Mr. Li Xiaoling, Director of LIFAN motorcycles and general power R&D center, and Mr. Zhu Xiaoman, Deputy General Manager of LIFAN Motorcycle Overseas pision, joined this signing ceremony together.
Accordingly, this cooperation will mainly focus on the design, manufacture and test of new motorcycle models, especially the 600cc scooter, the engine and body system of 600cc Cruiser. Secondly, for LIFAN's self-developed engines, a commission from LIFAN is given to OMI for technical support, for example, large displacement engines like 800cc, 1000cc and above, design and development of multi-valve engines, also performance improvement of present engines. More importantly, all designs and developments of engines under this cooperation are based on the National-V standards and Euro 5 regulations.
OMI is an Italian well-known company that works on the design, test and development of two-wheeler engines. It is a company with strong R&D strength in motorcycle engines and design development of whole-vehicles. It has also provided technical supports to many motorcycle enterprises domestic and overseas, such as LIFAN, Yamaha, Honda, Kawasaki, Peugeot, etc. The cooperation between LIFAN and OMI started in 2017, they had made many accomplishments in the past two years, among all these achievements, the 450cc engine had already been installed on KPT500. Moreover, LIFAN entrusts OMI with designing and optimized designing of LIFAN's NBS250 engine, VRF450 engine and 800cc engine, etc.
Giovanni Mariani, CTO of OMI, expressed at the signing ceremony that LIFAN is a Chinese well-known motorcycle enterprise, with self-contained capabilities and systems of design, test, manufacture and marketing in motorcycles. In the future, OMI will have further cooperation with LIFAN in fields like motorcycle engines and body systems, etc. OMI will also help LIFAN to promote competitiveness of its various motorcycle products.
On the other hand, Bob Yang conveyed that this powerful alliance would promote LIFAN's overall R&D strength and technical content in motorcycles. Also, the product research based on National-V standards and Euro 5 regulations, certainly can contribute to making products more competitive in the markets and therefore LIFAN can seize the market opportunities.