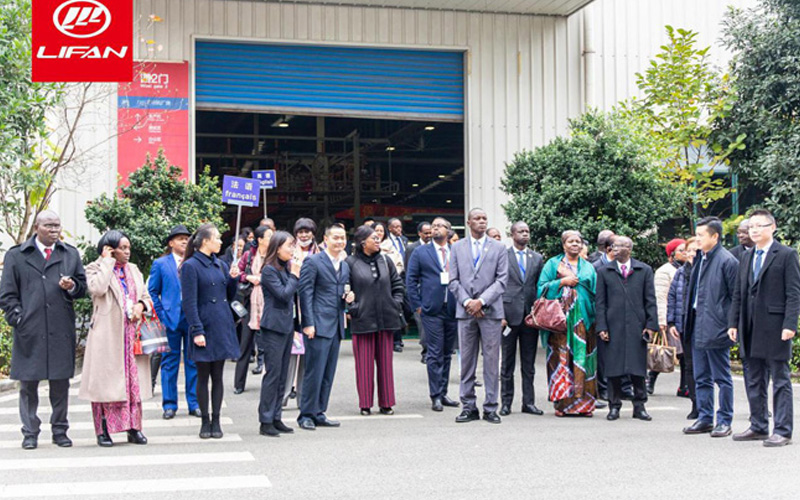 On the afternoon of December 3rd, ambassadors from 29 African countries to China visited the headquarters of LIFAN group and inspected our motorcycle factory and exhibition hall. They showed great interest in LIFAN's modern factory and abundant products.
It is reported that this African deputation will visit Chongqing from Dec. 1st to 6th. During their journey, they will explore Chongqing, an open inland region, to see the development and changes, tapping the new potential of bilateral cooperation.
Members of the delegation come from 29 countries including Ethiopia, Ghana, Mozambique, Niger, South Africa and Sudan. James Kang, Deputy General Manager of LIFAN Motorcycle Overseas Division, and Sun Chongjun, Deputy General Manager of LIFAN Motorcycle Manufacture Division accompanied the visitors.
Africa has always been an important market for LIFAN, with product sales covering more than 95% of countries and regions in Africa. Since entering the African market in 2003, LIFAN has exported more than 2 million motorcycles to Africa.
During the visit, Sun Chongjun introduced LIFAN's 27-year development history to the guests and made special mention of the profound friendship established between LIFAN and Africa.
He said: "for more than ten years after entering the African market, our products and services have extended all over the continent, such as Ethiopia, Kenya, Mozambique, Tanzania, Cameroon, Algeria, Angola, etc. All of them are important markets of LIFAN and we are very happy and proud that our products are highly recognized by the African customers."
Members of the delegation of African ambassadors to China expressed their amazement at LIFAN's persified products and advanced information management system. In the exhibition hall, the ambassadors asked the staff about the price, configuration and features of each product, and said they would recommend LIFAN's good products and technologies to their own countries.