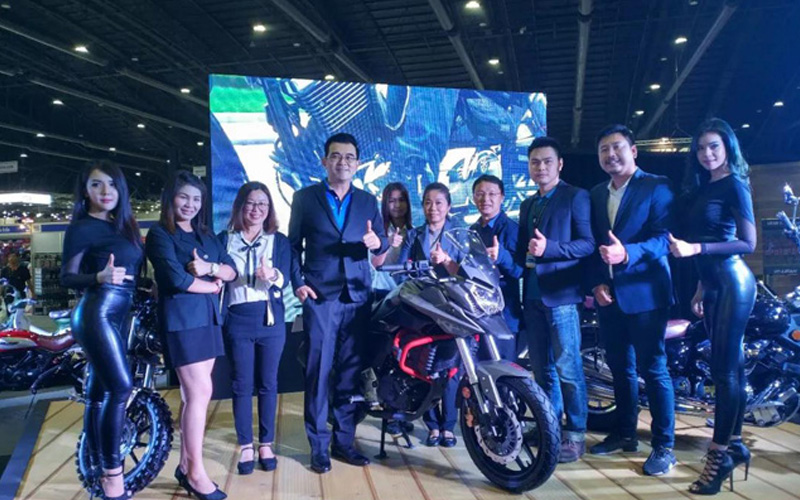 Receiving 1.36 million visitor from home and abroad, the 34th Thailand International Motor Expo 2017 closed in Pakkret on December 11. In total 39,832 cars and 7,711 motorcycles were booked during the two-week exhibition, and LIFAN Thailand launched 2018 new product line to local audience.
As one of the most developed market where motorcycle industry started early in the 1960s, Thailand signifies a special presence in Asia. LIFAN established its Thailand branch in 2009 and since has expanded business to neighboring countries in Southeast Asia.
On November 29, the VIP and press preview day of the Expo, LIFAN Thailand held a world premiere to release 2018 lineup, including 200cc road travel KPT and 250cc v-twin cruiser V16 (Custom V250 II). Local press and guest audience showed great interest in LIFAN's new products, especially the KPT, the first Chinese-made bike in ADV category to sell in Thailand.
LIFAN distributors from Thailand, Myanmar, Laos, Malaysia, Bangladesh, Pakistan and other countries were also invited to the Expo, who spoke highly of the 2018 new models and started booking or pre-ordering.
"It's our first time being here at the Thailand International Motor Expo, and we hope to bring our customers not only fantastic products but also the confidence in LIFAN. With all these years' experience, we now have a better understanding of Thai market and what local fans really want", said Shang Yiran, General Manager of LIFAN Thailand Manufacture Co., Ltd.
Wallace Lee, Regional General Manager of Europe and Asia, also affirmed the key role of LIFAN's developement in Thailand and even vital to the entire Asian market: "During the Expo, we feel every day the high expectation from our consumers, and we have every reason to believe that LIFAN will embrace a better future".